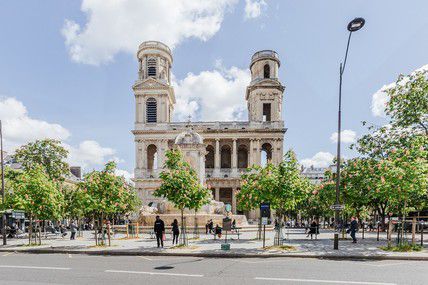 The most expensive neighbourhood in the capital continuous to dream. Certainly, some bookstores and publishers have given place to luxury brand names. From the life of the old bohemian so popular with artists, unspoiled and unspoiled beauty nourishes the aesthetics of the whole world. Here, the eponymous boulevard irrigates the central district of the Left Bank and offers its most famous neighborhoods. The church of Saint-Germain-des-Prés, of course, but also Saint-Sulpice, Luxembourg, Odéon or Sèvres Babylon.Even If it concentrates fewer educational institutions than the neighboring Vème, it counts prestigious places of culture such as the Institut de France where the various academies are located, but also the Théâtre de l 'Odéon, and the Ecole des Beaux-Arts.

Ubiquitous features
Saint Sulpice Square and its fountain, the elegance of its Italian architecture, the dome of the Institute extended by le Ponts des Arts, which provides access to the Louvre, the majestic wharves of Seine which are facing, the Ecole des Beaux-Arts, the art galleries of the rue de Seine, the antique shops of Rue de Seine, Rue des Saint-Père and Bonaparte, the irresistible charm of the Place Fürstenberg and the Delacroix workshop, the Saint Germain market and its gourmet shops, the splendid Jardin du Luxembourg and the Palais de Marie de Médicis, the opulent Bon Marché and the elegant Hotel Lutecia. It is difficult not to succumb to the superbe features of this arrondissement that the wealthy buy up fast to have wee pied à terre in this special area.



Literary wealth
Literature lovers will remember that the three musketeers spent a lot of time in the neighborhood. Every step taken in a lane, a wharf or a artery, the Vième is full of prints from a prestigious literary past, for example Procope café, les Deux Magots, Le Flore, Brasserie Lipp or Closerie des Lilas.

Our favorite addresses
Taste an Ispahan at Pierre Hermé, enjoy a few gourmet preparations in one of the Candeborde counters or savor a white truffle risotto at Café Armani and finish or with Gastronomic, with the installation of Guy Savoy, Paul Michelli Rue Mazarine and its numerous fish, restaurant Quinsou Abbé Grégoire, the Saint-Pourçain Servandoni or Semilla Rue de Seine, Ze Kitchen Gallery famous cuisine - William Ledeuil.